Health
Covid Hospitals: The New Killing Fields?
By

Rebecca Terrell - The New American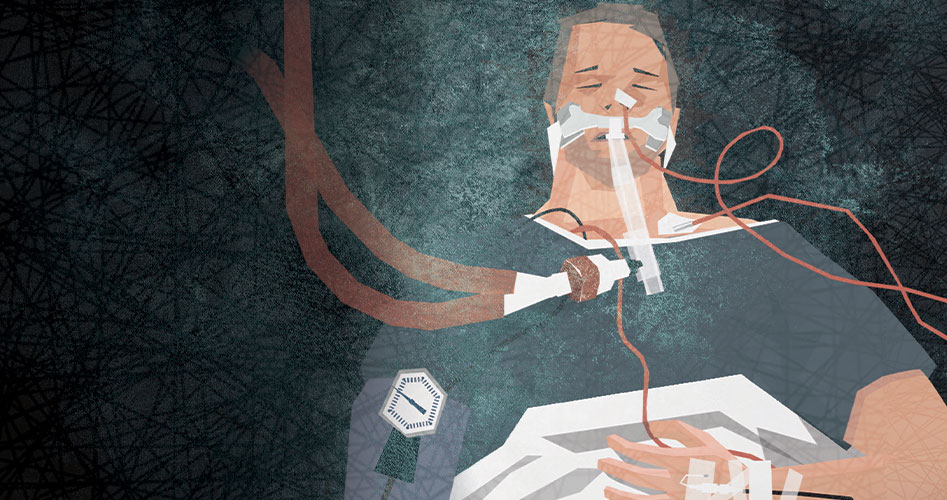 Imagine that doctors tie your daughter down to a bed and administer increasing doses of drugs in a lethal combination until she turns cold, stops breathing, and dies. That horrifying scenario is what the father of 19-year-old Grace Schara described as happening — not in 1940s Nazi Germany — but last October in a Wisconsin hospital.
The U.S. Centers for Disease Control and Prevention (CDC) now numbers Grace among more than one million Covid deaths nationwide in the past two years. Seven days before she died, the hospital admitted her with Covid, but her father believes the drug overdose, not the disease, killed her. Many medical professionals he has consulted agree.
Hits: 1279
Report: NIH Admits "Suppressing" Wuhan Lab Genetic Data on Covid
By

Veronika Kyrylenko - The New American
Last week, a nonprofit watchdog group posted evidence suggesting the National Institutes of Health (NIH) deleted genetic sequencing data on SARS-CoV-2 at the request of Wuhan University. The NIH representative denied the data was "deleted," while admitting that it was, in fact, "suppressed."
According to the March 31 email from NIH Media Branch Chief Amanda Fine to The Epoch Times, "They [genetic sequences of the virus] were not deleted. This is a really important point, and I've highlighted what did happen from what we provided to you earlier this week."
Hits: 671
ICAN Uncovers Merck Study Showing Simultaneous Chickenpox & MMR Vaccination Increases Adverse Events in Children
By

Informed Consent Action Network (ICAN)
AUSTIN, Texas -- Following a Freedom of Information Act (FOIA) request from non-profit Informed Consent Action Network (ICAN), a previously undisclosed Merck study looking at the safety of Varivax vaccine revealed an alarming increase of adverse events in children who received the Chickenpox and MMR vaccine at the same time.
Moreover, the study, produced by the FDA Food & Drug Administration, revealed that the FDA and pharmaceutical corporation Merck were aware of these harms to children, yet failed and continue to fail to warn pediatricians and parents about the risks.
Hits: 805
Federal Court Blocks D.C. Law Permitting Child Vaccinations Without Parental Consent
By

Informed Consent Action Network
AUSTIN, Texas -- A federal judge has blocked Washington, D.C. from enforcing a law that would permit children as young as 11 years old to be vaccinated without the consent of or notification to their parents or guardians.
The lawsuit was filed by two separate sets of parents, and included the support of the Informed Consent Action Network (ICAN) and its legal team at Siri & Glimstad, led by attorney Aaron Siri.
Judge Trevor McFadden ruled (Case Number: Case No. 1:21-cv-01782) that the city's Minor Consent for Vaccinations Amendments Act (MCA) violated federal law, specifically the 1986 National Childhood Vaccine Injury Act (NCVIA), by cutting out parents from the vaccination process.
Hits: 668
1.1 Million People Have Died in America Because of Obeying Fauci
By

The New American

Former Blackrock portfolio Manager Edward Dowd shows CDC data that proves the vaccine has killed many young people. Also 75% of Covid-19 hospitalizations are vaccinated in Ontario Canada!
DISCLAIMER: Views and opinions expressed on The Ben Armstrong Show are solely those of the host and do not necessarily represent those of The New American. TNA is not responsible for, and does not verify the accuracy of, any information presented.
Hits: 869
Giving Cannabis Candy to Babies
By

Anne Schlafly Cori, Chairman, Eagle Forum
The majority of states now allow some form of legalized marijuana. On the federal level, Sen. Charles Schumer is pushing to void the laws against marijuana and expunge criminal convictions. The public seems to have accepted the use of pot. My local government just voted to end marijuana screenings for applicants for public jobs. Does anyone see a downside to the proliferation of pot?
Hits: 609
Health Insurer: Government Is WRONG on COVID-vax Side-effects; Real Numbers Are an "Alarm Signal"
By

Selwyn Duke - The New American
Around New Year's, an American insurance company executive sounded an alarm. We're seeing the highest non-COVID death rates in his business' history, he said, with numbers so bad that it's worse than "a one-in-200-year catastrophe." Now a German health insurer has weighed in, issuing findings that can explain this phenomenon and point to what many have alleged: Authorities have greatly under-reported coronavirus "vaccine" complications.
As The Epoch Times reports:
Hits: 948