Health
The Shock of Woke Medical Schools
By

Eagle Forum
Our Once-Trusted Institutions Are Falling For The Scam
There used to be a time when we could depend on graduate-level professional schools to be trustworthy and unflinching about the facts they taught, no matter the surrounding politics or worldviews. Those days seem to be over, unfortunately, as even medical schools are inserting wokeness into their curricula and policies.
We should have seen it coming.
We have known for years that universities and increasing numbers of K-12 public school leaders stand firmly on the political left. Most no longer try to hide their biases, which the American public finally seems to be understanding. The awakening for many people, especially parents, occurred over the past two years as we all had an unfettered look behind the curtain at teachers' unions and their concerns only for their radical political agendas1. Students' welfare was nowhere in the unions' top priorities.
Hits: 785
Save the Storks Observes CHD Awareness Day
By

Christian Newswire

CHD Awareness Week commemorates February 14th to celebrate the many that have been born with congenital heart defects. Save the Storks believes that every baby deserves a chance at life, and a life full of love.
COLORADO SPRINGS, Colo. -- Everyone knows that February 14th is a day for hearts. Did you know that besides Valentine's Day, it's also Congenital Heart Defect (CHD) Awareness Day?
Every year, nearly 40,000 babies are born with CHD, which accounts for 1% of all births. This is 1 in 100 babies. For comparison, 1 in 800 babies are born with Down Syndrome and 1 in 6,250 children are diagnosed with cancer. There are many different CHDs ranging in severity of condition and life expectancy.
Hits: 1293
Ask Your Representatives to Oppose Vaccine Mandates
By

Eagle Forum
Our representatives are currently drafting a massive spending bill to fund our government. Last year, House Democrats threw every socialist policy they could in the bill including funding for federal vaccine mandates. Although Americans oppose these mandates, the Biden administration keeps pushing them forward. So far, Biden has issued five vaccine mandates that have impacted millions of individuals, even costing them their jobs.
This week, Congressman Chip Roy (R-TX) had enough. Roy, along with his colleagues wrote a letter to House Minority Leader Kevin McCarthy (R-CA) and Senate Minority Leader Mitch McConnell (R-KY) letting them know that any government funding bill that allows federal vaccine mandates to move forward will be staunchly opposed. Every member of Congress should join this letter to protect every Americans' individual rights.
Please call or email your Representative and Senators today to ask them to join Rep. Roy's letter opposing vaccine mandates.
Capitol Switchboard: 202-224-3121
Email your Representative and Senators
Hits: 739
Toddler Denied Lifesaving Surgery in Three Countries Because of Unvaccinated Parents
By

Michael Tennant - The New American
A three-year-old from Cyprus was refused lifesaving surgery in three countries because his parents were not vaccinated against COVID-19.
According to Politico:
The boy, who has not been named, was hospitalized with serious heart disease. As Cypriot hospitals were unable to perform the necessary procedure, the health ministry arranged for the boy to be taken by air ambulance to Germany last Thursday.

However, the day before the transfer was supposed to take place, the hospital in Frankfurt informed the Cypriot authorities that it would not be going ahead because the boy's parents had not had the COVID-19 vaccine.
A German health official told Politico that the government does not prohibit hospitals from treating unvaccinated people or their children, but hospitals are free to make their own rules regarding such matters.
Hits: 1173
There's Something Much Bigger Going On Here
By

Inspired
Dr. Robert Malone, co-inventor of the mRNA technology explains how 10's of thousands of physicians & scientists are being canceled simply for questioning the official narrative.
This is a short excerpt from the recent interview with Dr. Robert Malone on the Joe Rogan Podcast.
▹ Special thanks to the Joe Rogan Experience 👉🏽 https://www.joerogan.com/
Hits: 3986
Tell Department of Health and Human Services to Stop Harming Patients!
By

Family Research Council
The U.S. Department of Health and Human Services (HHS) has just proposed a rule that would force insurers to cover "gender transition" procedures such as cross-sex hormones, puberty blockers, and sex reassignment surgery. This rule change would harm not only evidence-based medicine but also, ironically, the very patients the change purports to help. It's driven by the ideological push to redefine sex as a social construct and would threaten the religious liberty of religiously-affiliated hospitals and medical professionals. Before finalizing and implementing this rule, HHS has asked the public to comment with their thoughts on the matter.
Hits: 1282
Report: British Study Says Post-vaccine Heart Damage Worsens With Each Jab
By

R. Cort Kirkwood - The New American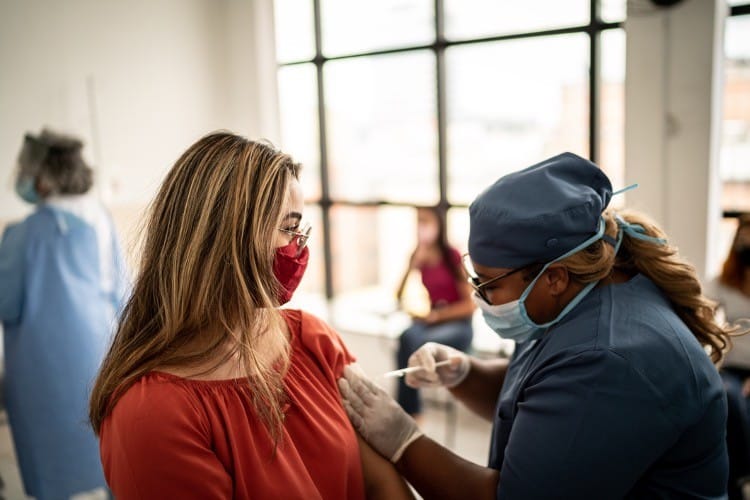 A British study reports that myocarditis in men under 40 years old after a China Virus jab is worse than previously thought. The risk for serious complications increases after each inoculation.
The latest on vaccine dangers, reported today by Alex Berenson at Substack, confirms what mRNA vax pioneer Dr. Robert Malone has said. Young people don't need and should not get the vaccine because the risk of serious injury from the jab is greater than that for the Asiatic pathogen.
The study should be particularly worrisome because colleges are forcing students to get jabbed, as is the U.S. military.
Hits: 3378