The War of Ignorance against Robert E. Lee
By

Mike Scruggs

Category: Mike Scruggs' Column
The Slander of a Gallant Soldier, Noble Patriot, and True Christian With Rejoinder by President Dwight D. Eisenhower
On June 11, General Jack Keane, U.S. Army (ret.) appeared on at least two evening Fox News shows. Although he agreed with President Trump's position not to rename Army bases named for Confederate generals, for some reason, he went out of his way to condemn Confederates, including Robert E. Lee as traitors. I saw it on Shannon Bream's show. This was in the midst of wave after wave of wanton mob destruction of not only Confederate monuments but American monuments generally. Having had a high opinion of Keane as a military analyst, I was shocked that he apparently knew so little about what the Southern cause really was—independence for a number of strong economic, taxation, constitutional, and general fairness reasons—and that he would specifically slander Robert E. Lee as a traitor.
Hits: 10213
Gone with the Wind
By

Mike Scruggs

Category: Mike Scruggs' Column
Attention: HBO Department of Cultural Marxism
HBO just added the classic 1939 movie, Gone with the Wind, to its forbidden history and entertainment list. The announcement first reminded me of a passage in George Orwell's famous book, 1984.
"Every record has been destroyed or falsified, every book rewritten, every picture has been repainted, every statue and street building has been renamed, every date has been altered. And the process is continuing day by day and minute by minute. History has stopped. Nothing exists except an endless present in which the Party is always right."
Hits: 2106
Will Removing Confederate Symbols Promote Social Peace? Of Course Not.
By

Mike Scruggs

Category: Mike Scruggs' Column
Will removing Confederate flags, monuments, and names promote social peace or racial healing? How long would a peace based on suppression of a people's cherished heritage last? How long would a peace built upon suppressing the memory, valor, and virtue of the revered forebears of a great number of the Southern people last? What could possibly be a surer cause of immense strife, bitterness, and economic and political turmoil? Does anyone outside of a madhouse believe that peace and prosperity can be achieved by discarding the heritage of a numerous people to gain the political favor of another? It is more likely to shatter all hope of peace. Can a society set itself against tolerance and mutual respect and have peace? No fair-minded person can accept such corrupt reasoning.
Hits: 5570
Nathan Bedford Forrest and God's Amazing Grace
By

Mike Scruggs

Category: Mike Scruggs' Column
Part 5 of a series on Confederate Cavalry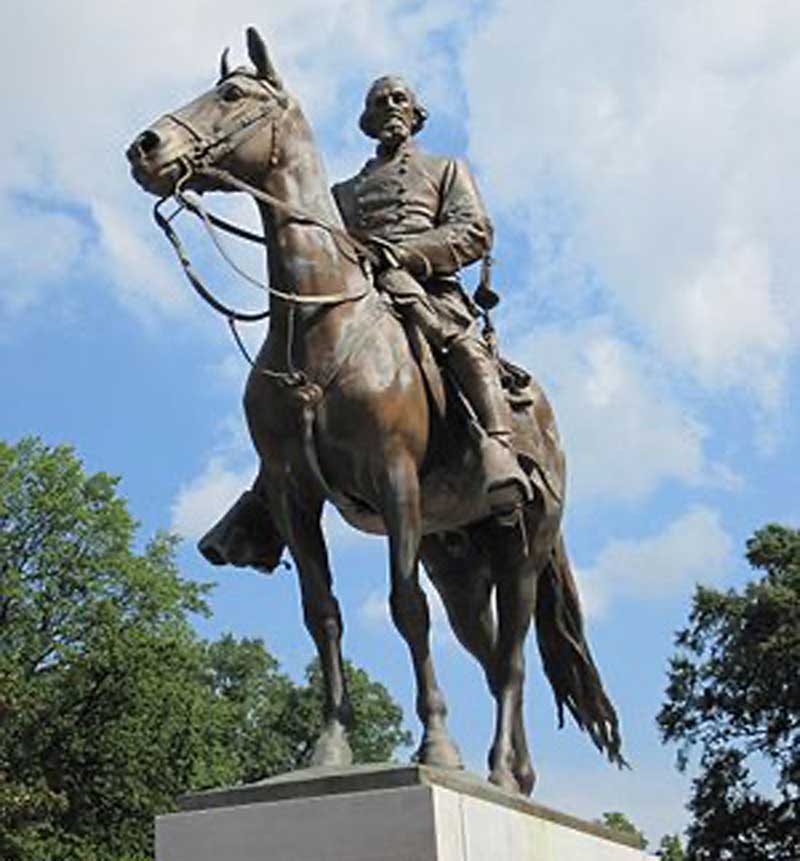 In 2017, Memphis politicians managed to remove the statue of Confederate General Nathan Bedford Forrest from a prominent city park. In the near future, they even plan to move the graves of Bedford Forrest and his wife, Mary Ann. Will removing the memory of Forrest promote social peace or justice in Memphis or in Tennessee? They many not recognize it yet, but they are moving in the wrong direction for truth, social peace, and justice.
Hits: 3031
Bedford Forrest and the Assault on Fort Pillow
By

Mike Scruggs

Category: Mike Scruggs' Column
Reconstructing Truth in a Hurricane of Propaganda
Part 4 of a Series on Confederate Cavalry
During the morning of April 12, 1864, Forrest had made a reconnaissance of the outer perimeter of earthworks at Fort Pillow. He had found that all but the inner fort was vulnerable to sniper fire from higher terrain. He doubled the line of sharpshooters already placed there by General Chalmers. He was, however, painfully injured falling from his horse, which was shot from under him.
Hits: 1469